Featured
The wildfire reaches 43,000 hectares in the Kostanay region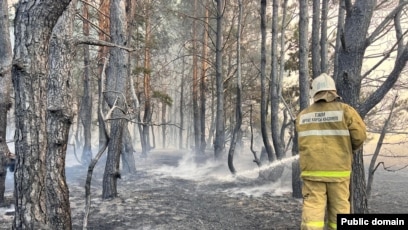 In press briefing, Minister of Emergency Situations Yuri Ilyin said that the fire in the Kostanay region covered more than 43 thousand hectares.
43 thousand hectares of 106 thousand hectares of forest reserve belonging to the forestry sector unfortunately has turned into ash as a result of fires. At the moment,  In 8 different places new fires are being fought. "But there is no danger in these regions for the time being" he said.
In the Kostanay region forest fires which have entered the third day still contuines. In the news shared earlier, it was reported that 108 houses and buildings were destroyed, 10 people were injured and one person died.
The officials asked volunteers not to participate in extinguishing the fire to avoid harm to residents. Firefighters, police and soldiers were mobilized. Authorities stated that the current interventions are sufficient.
Currently, a military firefighting team of 50 people has reached to fire regions and 4 military helicopters will participate in the firefighting efforts.