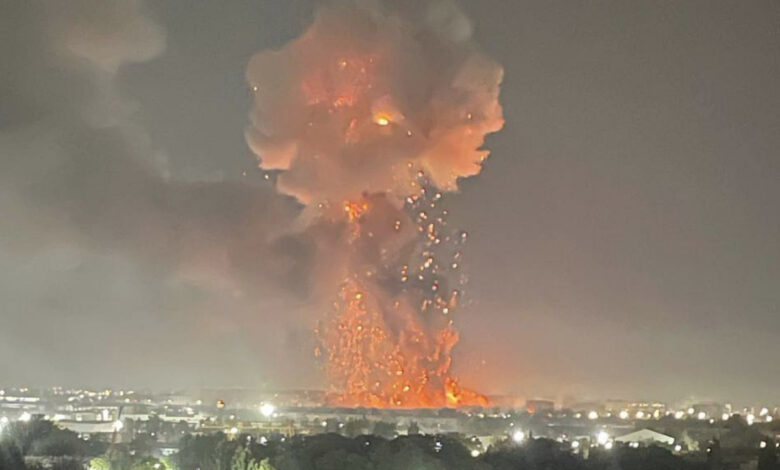 A powerful explosion occurred at a warehouse in Tashkent, Uzbekistan, on September 28 at 2:43 a.m. The explosion was followed by a strong fire, which has still not been completely extinguished at the time of publication of this article, TuraNews.kz reports.
The explosion was heard for many kilometers, and smoke and the glow from the fire were visible from other areas of the city. The blast wave broke the windows of dozens of apartments in multi-storey buildings, and there were many ambulances in the courtyards of the area. Many residents had to sleep in their cars.
There is a large number of law enforcement officers and special services at the scene, and government vehicles are visible. No one has given any comments on the spot.
According to the Ministry of Emergency Situations, 16 fire and rescue crews and three ladder trucks were sent to the scene of the explosion. They arrived at 2.48 and began extinguishing the fire and eliminating the consequences. At 5.02 the fire was localized.
The Ministry of Emergency Situations denied information about a plane crash, which was voiced on social networks.
Uzbekistan Airports reported that the explosion did not affect the operation of the capital's airport. Tashkent International Airport operates as normal without restrictions.
The Ministry of Health said those injured in the explosion and fire were taken to medical facilities.
"Among them there are no particularly serious injuries. Doctors provide the victims with all necessary medical care," the message says.
The City Clinical Hospital reported that the number of victims is still being established. Most patients have cuts on their face.
Ambulance personnel are also helping the injured at the scene. Whether there are any dead is still unknown.
The cause of the explosion is still under investigation.