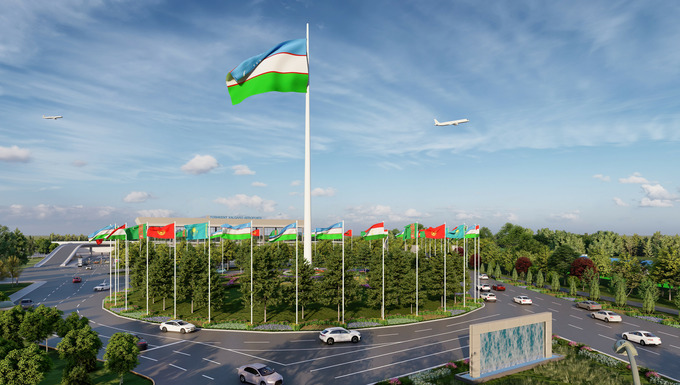 In a grand display of patriotism and modernization, Tashkent International Airport proudly showcases a towering 62-meter-high flagpole, crowned with a massive 12×24 meter flag of Uzbekistan, TuraNews.kz reports.
The installation, situated prominently in the center of the traffic circle at the airport's overpass exit, was revealed by the Сapital's Administration officials.
This striking monument is accompanied by 38 flagpoles, each standing 16 meters tall, encircling the area. These secondary flagpoles will proudly fly 2×4 meter flags, which are expected to change in accordance with both national and international events hosted in the city and official visits by foreign delegations.
The patriotic display is not the only addition to the area, as an interactive light fountain in the form of a rectangular panel graces the space in front of the overpass, while a substantial projection screen is positioned to the right. The ongoing area enhancement project also encompasses the modernization of the nearby bus stop in front of the airport, promising a more inviting and appealing environment for visitors and travelers alike.