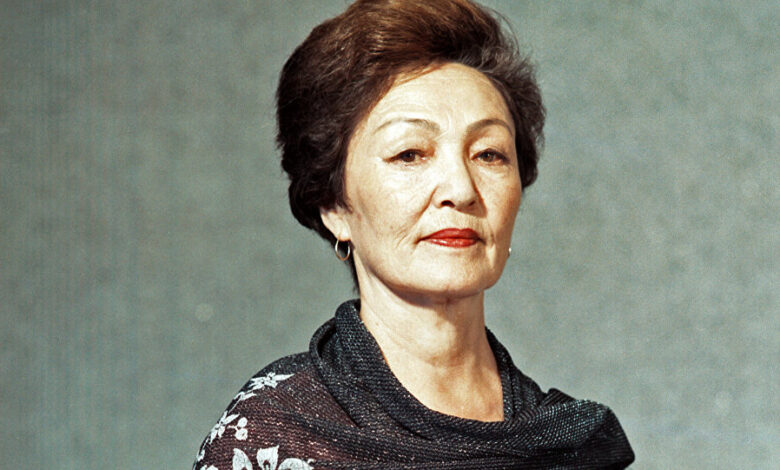 The organizing committee of the XV International Film Festival "Pearl of the Silk Road" and the international organization TURKSOY held a memorial evening dedicated to the 100th anniversary of the birth of the People's Artist of Kyrgyzstan and the USSR Baken Kydykeeva, TuraNews.kz reports.
The evening began with a photo exhibition and continued with the screening of the documentary film "Theater Star" by People's Artist of the Kyrgyz Republic Asankozho Aitikeev and video clips from the actress's film library.
The event was chaired by Deputy Director of the Cinematography Agency of Uzbekistan Shukhrat Rizaev and the representative of Kyrgyzstan in TURKSOY Kanat Mambetaliev, who made reports on the life and work of Baken Kydykeeva. Other speakers included Honored Worker of Culture of the Kyrgyz Republic, director of the Kyrgyzserial studio Zhenishgul Ozubekova, famous producer and director, adviser to the Secretary General of TURKSOY Mayra Karsakbaeva (Kazakhstan), prominent public figure and film producer Zhyldyzkan Zholdosheva (Kyrgyzstan), Doctor of Pedagogical Sciences, Professor Gulnara Gulnara, representative of TURKSOY Shahnoza Burkhanidin, and others.
The participants of the evening included prominent figures of cinema and the film industry from the TURKSOY countries, including representatives of Kyrgyzstan represented by the Director of the Department of Cinematography under the Ministry of Culture, Information, Sports and Youth Policy of the Kyrgyz Republic Akzhol Bekbolotov and the Chairman of the Union of Cinematographers of the Kyrgyz Republic Taalaibek Kulmanbeev.
The speakers spoke with inspiration about the multifaceted talent of Baken Kydykeeva, which was in demand not only on the theatrical stage and blue screens of Kyrgyzstan, but also in the studios of Uzbekistan, Kazakhstan and Mosfilm. She starred with masters of the film industry such as Andrei Konchalovsky (Russia), Bolot Shamshiev (Kyrgyzstan), Abdulla Karsakbaev (Kazakhstan), Elyer Ishmukhamedov (Uzbekistan) and others. Baken Kydykeeva also opened the doors to great art for budding talents.
Throughout her career, Kydykeeva was known as "The First" for being the first to play the main roles in all the plays of world and Russian drama, staged on the stages of the republic's theaters. She was also the first actress to play the main character in the first national feature films "Saltanat" and to introduce the Kyrgyz audience to the heroines of the immortal plays of the great Shakespeare.
Kydykeeva's most iconic roles include Kanykey from the epic "Manas", the mother from the Kyrgyz hinterland and the harsh times of socialist realism, and the mother of a long-awaited and only child in the family Alpamys, who "goes to school".