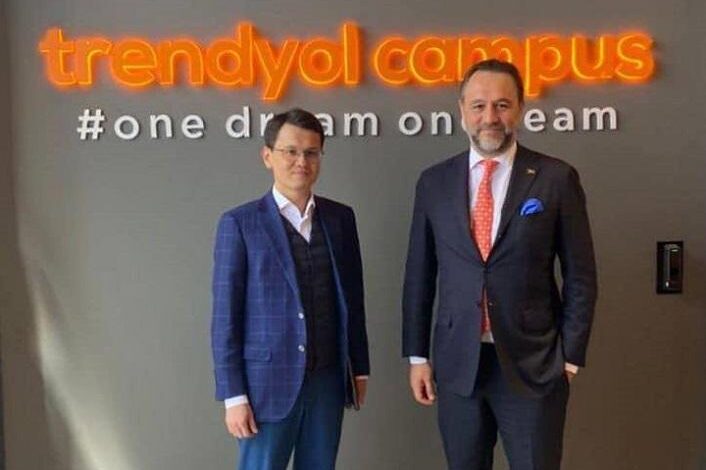 In the near future, Kazakhstani goods may appear on the largest marketplace of Turkey – Trendyol. The Minister of Digital Development, Innovations and Aerospace Industry Bagdat Musin wrote about this in his Telegram channel.
"When the President Kassym-Jomart Kemeluly paid a state visit to the Republic of Turkey in May of this year, I held negotiations with a number of companies of this country and introduced domestic IT companies.
One of them was Trendyol, a leading online trading company on the market. "Trendyol deals with the delivery and sale of goods in the territory of Turkey through an online store through their electronic platform (they sell about 1.5 million goods per day)" wrote Bagdat Musin.
Trendyol is called the local Amazon or Alibaba in Turkey. The company is valued at approximately $16 billion.
According to the minister, Kazakh goods will enter the market of Turkey through this system in the near future.
"During the visit, we worked out the logistical issues of delivering their goods to Kazakhstan, and we also agreed to sell Kazakhstani goods to the Turkish market through a large marketplace," the minister said. — Now this initiative movement has shown its results within the framework of the visit of the President of the Republic of Turkey Recep Erdogan to Kazakhstan. Today, Big Way KZ, one of the Kazakh logistics companies serving regional marketplaces, signed a cooperation agreement with the Turkish company Trendyol. Big Way KZ is a company engaged in the implementation of logistics turnover in the domestic market. They have great potential to enter the foreign market. Thanks to the joint agreement, Kazakhstani goods will now be sold directly to the Turkish market without intermediaries."
The head of the department noted that Kazakhstanis are familiar with Trendyol and often order goods through intermediaries.