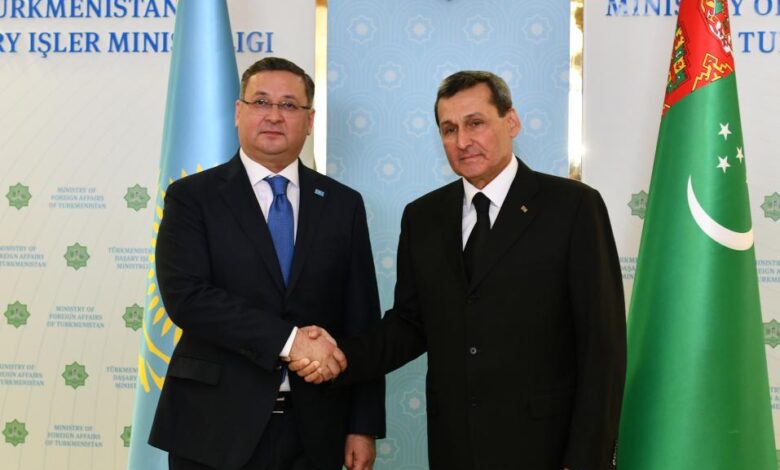 In a move to further bolster diplomatic relations between Kazakhstan and Turkmenistan, Deputy Prime Minister and Minister of Foreign Affairs of Kazakhstan, Murat Nurtleu, embarked on an official visit to Ashgabat at the invitation of Rashid Meredov, Deputy Chairman of the Cabinet of Ministers and Minister of Foreign Affairs of Turkmenistan,TuraNews.kz reports.
During their discussions, key aspects of bilateral cooperation in the political, trade, economic, cultural, and humanitarian sectors were addressed. Both parties emphasized their mutual commitment to strengthening their strategic partnership characterized by friendship, brotherhood, mutual respect, and good neighborliness.
Minister Nurtleu of Kazakhstan highlighted the importance of reinforcing political dialogues at the highest levels and intensifying inter-parliamentary relations. In this context, they underscored the significance of implementing agreements reached during the state visits of President Kassym-Jomart Tokayev to Turkmenistan in October 2021 and President Serdar Berdimuhamedov's visit to Kazakhstan in October 2022.
Minister Meredov of Turkmenistan confirmed that the relations between the two countries had reached a qualitatively new level, evolving into a strategic partnership.
Both sides agreed to take coordinated measures to boost trade volumes by intensifying the activities of the Working Group to increase trade turnover and expanding the range of goods traded between Kazakhstan and Turkmenistan. They also discussed the importance of the Kazakh-Turkmen Business Council, the exchange of business delegations, and the work within the framework of the joint Intergovernmental Kazakh-Turkmen Commission on Economic, Scientific, Technical, and Cultural Cooperation.
The ministers also emphasized the need to strengthen regional ties, especially in the fields of fuel and energy, oil and gas, chemicals, textiles, agriculture, ecology, environmental protection, water resource management, transport, logistics, and telecommunications.
In terms of cultural and humanitarian relations, the ministers identified potential in education, science, media, and cultural exchanges. They expressed a desire to intensify inter-university contacts, organize cross-cultural events, and celebrate the 300th anniversary of Turkmen poet Magtymguly Fragi through joint activities.
Additionally, the ministers discussed regional and international issues, highlighting constructive cooperation within international organizations such as the UN, OIC, CIS, and in the "CA+" formats, as well as mutual support for the international initiatives of both states. Special attention was given to cooperation in the development of regional initiatives and the Caspian Sea, in addition to their collaboration within the International Fund for Saving the Aral Sea.
As a significant outcome of the negotiations, a Cooperation Program between the foreign ministries of Kazakhstan and Turkmenistan for the years 2024-2026 was signed.
During his official visit, Minister Nurtleu of Kazakhstan also participated in a wreath-laying ceremony at the Monument of Independence of Turkmenistan.